Are you ready to test your serve on the tennis trivia court?
Whether you're an ace at tennis knowledge or just starting your rally in the sport's history, our compilation of 50 tennis quiz questions and answers is set to challenge every corner of your tennis wisdom.
Dive in and discover if you're the ultimate Grand Slam guru or if there's still more for you to learn about this electrifying sport!
Tennis Quiz Questions and Answers: Round 1
1. Who was the first unseeded man to win Wimbledon?
2. Who did Andy Murray beat in the final of Wimbledon 2016?
3. How many times did Martina Navratilova win the Wimbledon singles?
4. What was Evonne Goolagong's married name?
5. Which Australian pair dominated the men's doubles in the late 1960s?
6. Who is the only black American to have won the men's singles at Wimbledon?
7. Who is Czech Cyril Suk's famous sister?
8. In which year did Ivan Lendl win Wimbledon?
9. Which British pair won the Wimbledon mixed doubles in 1987?
10. Roger Federer hails from which country?
Tennis Questions: Round 2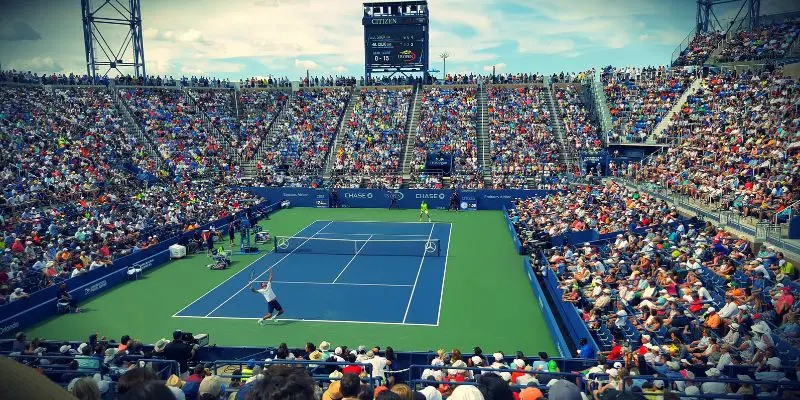 11. Which woman French player won the Australian Open in 1995?
12. Who is the elder of the two tennis-playing Williams sisters?
13. Which cup for women was contested between the US and Britain?
14. Where is the final of the US Open played?
15. Which US champion was married to British player John Lloyd?
16. Who was the first male tennis player to win 100 tournaments?
17. Which two women competed in the all-British Wimbledon final in 1961?
18. What is the international team competition for men called?
19. What are the colours of the All England Lawn Tennis Club?
20. In 1996, 1997, 2003 and 2004 Tim Henman went out of Wimbledon at which stage?
Tennis Trivia: Round 3
21. What did line judge Dorothy Brown do in a 1964 Wimbledon match?
22. Whom did Virginia Wade beat in the final to win Wimbledon in 1977?
23. Which German won the Wimbledon men's singles in 1991?
24. Who won his first US Open title in 1990?
25. Which American won the ladies' singles and doubles at Wimbledon in 1999?
26. What is the surface of the courts at Roland Garros in Paris?
27. Why did Catherine McTavish make Wimbledon history in 1979?
28. Which Greek Cypriot lost the men's final at the Australian Open in 2006?
29. What is the score in tennis when the tie-break is introduced?
30. Which sisters won Olympic gold in tennis in 2000?
Round 4
31. How did Richard Rasking compete in the 1977 US Open ladies' singles championship?
32. Which female tennis player has won the most major singles titles – 24?
33. Which Grand Slam title eluded Pete Sampras?
34. Which two players contested three successive Wimbledon finals in 1988-90?
35. Who did Andre Agassi beat in the final for his only singles victory at Wimbledon?
36. Who was he Bounding Basque, a Frenchman who won Wimbledon in 1924 and 1926?
37. Before Rafael Nadal in 2008, who was the last Spanish player to win the Wimbledon Men's singles title, forty-two years previously?
38. Who partnered John Newcombe to twelve Grand Slam men's doubles titles?
39. Which two American players are the only two women to have beaten Steffi Graf in a Wimbledon ladies' singles final?
40. Who is the only French winner of a Wimbledon singles title since 1946?
Round 5
41. Other than Americans, who were the last two players from the same country to win the ladies' and men's singles titles in the same year at Wimbledon?
42. Who knocked out both Roger Federer and Novak Djokovic at Wimbledon in 2010 en route to the final?
43. Which two countries won every Davis Cup played between 1946 and 1973? Who broke the hegemony in controversial circumstances in 1974?
44. France won the Davis Cup for the first time in 59 years in 1991; which two left-handers made up their team in the final, both beating Pete Sampras?
45. Which three double pairings have won all four Grand Slam titles in the last twenty years?
46. From 2006 to 2012 all but two of the men's singles Grand Slam titles available were won by Federer, Nadal or Djokovic; who bucked the trend?
47. Who won the most Grand Slam singles titles: Martina Hingis, Kim Clijsters or Justine Henin?
48. Pam Shriver won twenty-two Grand Slam titles; good player, Pam, but in what sense did she get lucky?
50. Pete Sampras won 7 out of 8 Wimbledon titles between 1993 and 2000; who ambushed him in the quarter-final in 1996 and went on to win the title?
You might also like 70 Sports Questions