Are you ready to test your knowledge of fairways, greens, and iconic golf moments?
Whether you're a seasoned golfer or just a fan of the sport, our list of 40 golf quiz questions is sure to challenge your expertise and perhaps even teach you a few new tidbits.
From legendary players to unforgettable tournaments, it's time to tee off and see if you can score a hole-in-one with your golf trivia know-how!
Golf Quiz Round 1
1. How many of the four majors did Tiger Woods win in 2011, 2012, 2013 and 2014?
2. Which European no. 1 golfer won the Hong Kong Open in 2005?
3. Who is nicknamed "The Great White Shark"?
4. Which actress did Sam Torrance marry?
5. What is the women's equivalent of the Ryder Cup?
6. Which European Open gave Steve Ballesteros his first-ever European win back in 1976?
7. Where does Ernie Els hail from?
8. What does the D stand for in Arnold D. Palmer?
9. What is a bunker known as in the United States?
10. What is the maximum number of clubs permitted in a golf bag?
Golf Questions Round 2
11. Which English player scored a hole-in-one on the final day of the 1995 Ryder Cup?
12. Who was the first German to win the German Open?
13. Where is the 'home of golf'?
14. In which year did Tiger Woods win his first Open Championship?
15. Which country does Michael Campbell come from?
16. In stroke play, what is the penalty for playing the wrong ball?
17. What do the initials PGA stand for?
18. What is the amateur's equivalent of the Ryder Cup?
19. At which 'appetizing' course did Sandy Lyle win the 1985 British Open?
20. Who is "The Golden Bear"?
Golf Quiz Questions Round 3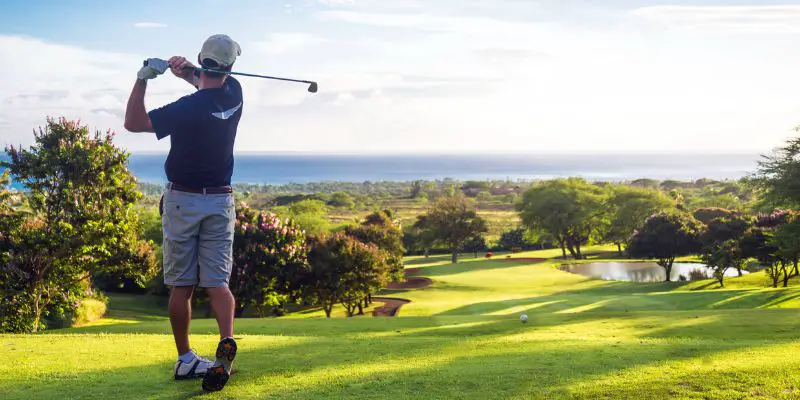 21. Which is the oldest golf club in England?
22. At what age can a player join the Seniors' Tour?
23. Name Europe's 1997 Ryder Cup captain.
24. Which Henry won his first British Open in 1934?
25. What nationality is golfer Vijay Singh?
26. Which British golfer won the British Open in 1969?
27. Which famous American played his last British Open in 1995?
28. In which tournament does a player win a green jacket?
29. Which country does former Open winner Paul Lawrie come from?
30. Who was undoubtedly the major breakout star of international golf in 2015?
Round 4
31. Who, in 2010, became the second German golfer to win one of the four Major tournaments?
32. 1994 was the last year no US players won a Major; which three players, one European and two from the rest of the world, carved up the four titles between them?
33. Who were the two players involved in an epic duel at the Open Championship at Turnberry in 1977?
34. Wich two Scottish players have won a Major championship since World War II?
35. Who, in 2008, became the first European-based player to win the USPGA, and who was the first British-born player to emulate him, in 2012?
36. Who holds the record for European Tour wins (50), a record that may not be matches as the strength in depth has grown?
37. What record did Julius Boros set when he won the 1968 USPGA Championship in 1968?
38. Which 2007 winner of the USPGA remains the only male Asian golfer to win a Major tournament?
39. Which two European players have amassed the most points in the Solheim Cup (25 and 24)?
40. Which US president's home was alongside the course on which the US Masters is played?
You might also like Sports Trivia